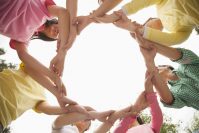 Dr. George Slavich, Founding Director of the Laboratory for Stress Assessment and Research, is leading new efforts to better understand and foster belonging and promote resilience. The efforts include the publication of a new landmark article that describes an organizing framework for belonging research and development of a new international network aimed at supporting research, educational, and outreach activities for increasing belonging worldwide.
The new scientific article, titled Belonging: A review of conceptual issues, an integrative framework, and directions for future research, recently appeared in the Australian Journal of Psychology. The article summarizes existing perspectives on belonging, describes a new integrative framework for understanding and studying belonging, and identifies several key avenues for future research and practice. A PDF version of the article can be downloaded from the lab website.
In addition, Dr. Slavich is leading with Drs. Kelly-Ann Allen and Christopher Rozek a new international network, called the Global Belonging Collaborative. The mission of the Collaborative is to enhance belonging worldwide by providing scientists, teachers, practitioners, and the general public with information, tools, resources, and opportunities to collaborate, network, and share research and resources related to belonging. By conducting this work, the Collaborative will aim to cultivate a universal understanding that belonging is a fundamental need that should be celebrated and promoted by all people and organizations worldwide.
Together, Dr. Slavich's hope is that these synergistic initiatives will promote research and foster belonging in order to help reduce disease risk and increase individual and collective resilience worldwide.
Dr. George Slavich is a Professor in the Department of Psychiatry and Biobehavioral Sciences, Division of Population Behavioral Health, at UCLA, and a Research Scientist at the Semel Institute for Neuroscience and Human Behavior, where he is Founding Director of the Laboratory for Stress Assessment and Research.