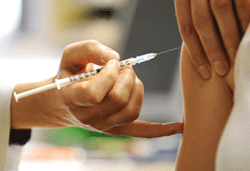 Stress increases a person's risk for a variety of mental and physical health problems that cause substantial morbidity and mortality, including depression, heart disease, certain cancers, and neurodegenerative disorders. Interventions aimed at reducing the effects of stress on health typically focus on individuals who already have stress-related health problems. But, what if there was a vaccine that could prevent such problems from occurring in the first place? Would you take it?
As it turns out, such a solution may be in our future. Researchers have begun developing so called "stress vaccines" that could one day increase a person's resilience to stress and possibly prevent stress-related disorders like depression and PTSD from ever taking hold. But, do such vaccines actually work? And, if so, what would be the potential pros and cons of altering people's reactions to stress?
To explore the cutting-edge topic in stress prevention and research, lab director, Dr. George Slavich, recently spoke with AirTalk host, Larry Mantle, on NPR (Listen Here).
——–
Dr. Slavich is an associate professor and Society in Science – Branco Weiss Fellow in the Department of Psychiatry and Biobehavioral Sciences at UCLA, and a Research Scientist at the UCLA Cousins Center for Psychoneuroimmunology, where he directs the Laboratory for Stress Assessment and Research.